Bradford travel across the Pennines looking to capitalise on the form shown in last Sunday's FA Trophy victory.
Having defeated Gloucester with a depleted squad on Sunday, Bower has bolstered his side this week with the signing of former Bradford City and Boston United striker, Tom Clare.
The squad is further strengthened by the return of two players who were unavailable last weekend. Jonathan Royle, who was unavailable for the FA Trophy tie, will be available for selection this weekend alongside Liam Hughes who has completed his suspension following an early red card against Leamington.
Chester, who sit third in the table, bolstered their midfield this week with the signing of Elton Ngwatala who had a spell with Dundee in the Scottish Premiership and will be hoping to close the five point gap between them and second placed York City today.
Tom Clare joins the Avenue after he mutually departed Boston United yesterday and is raring to get going and put on the Avenue shirt.
Tom is no stranger to Bradford having joined Boston from neighbours Bradford City. Initially joining Boston on loan in March 2019 then signing permanently when he was released by Bradford City in July 2019.
Clare came through the youth ranks at Barnsley and has also had loan spells at Frickley Athletic and Ossett United.
The club can also confirm that following Jon Morans short term loan deal to Stafford he has now opted to join Stafford on a permanent basis. The club would like to thank Jon for all his efforts in an Avenue shirt and wish him all the best for the future.
Head To Head: Last 5 Games
| | | | | | |
| --- | --- | --- | --- | --- | --- |
| Date | Competition | Venue | BPAFC | Chester FC | Result |
| 23/02/19 | League | Home | 2 | 0 | Win |
| 08/09/18 | League | Away | 3 | 5 | Loss |
| 05/01/13 | League | Home | 0 | 0 | Draw |
| 17/10/12 | League | Away | 1 | 1 | Draw |
| 17/03/12 | League | Away | 2 | 3 | Loss |
| | | | |
| --- | --- | --- | --- |
| | Win | Draw | Lose |
| BPAFC | 1 | 2 | 2 |
| Chester FC | 2 | 2 | 1 |
Knowing The Opposition
ELTON NGWATALA
Elton joined the Blues in November 2019 following his release from AFC Fylde after just three substitute appearances for the Coasters this season. Prior to this, the 26-year-old had a spell in Scotland with Dundee and scored on his debut away at St Mirren. Elton played just under 90 times for Kidderminster Harriers, and scored 15 goals for the club before his move to the Scottish Premiership.
AKWASI ASANTE
In late November 2018, Akwasi joined the Blues on an initial 28-day loan from Tamworth. The 26-year-old arrived with plenty of pedigree at this level. His 17 goals in 39 appearances spearheaded Solihull Moors to the National League North title under former Blues boss Marcus Bignot back in 2015-2016. This came after a spell at Kidderminster following his release from Birmingham City in 2014. Asante actually made his Birmingham senior debut in a Europa League tie, coming on as a sub as they beat Portuguese side Nacional 3-0. Akwasi, who was born in Amsterdam, continued his scoring feat following promotion with 11 goals in 22 National League games; before he was signed by League Two Club Grimsby for an undisclosed fee. The 26-year-old then joined Tamworth on an 18 month deal in February 2018 following his release from the Mariners that same month. He is renowned for being a quick and strong but also a very clever footballer who has scored lots of goals at this level. In January 2019, Akwasi made his stay at the Deva a permanent one – signing an 18 month deal for a club record fee from Tamworth.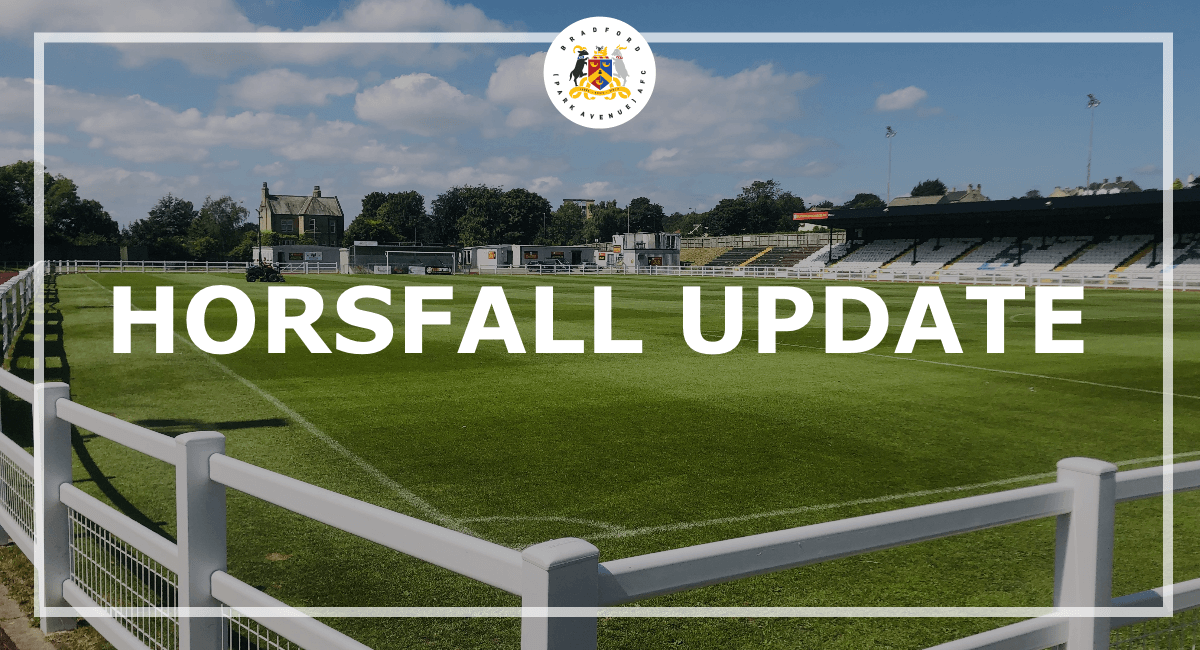 BRADFORD (Park Avenue) owner Gareth Roberts confirmed that the club have agreed terms on a 30-year lease to take control of Horsfall Stadium from the  City of Bradford  Metropolitan District Council.
The proposals have been in the pipeline for months, but now the paperwork has finally been completed and the lease will be effective once it is approved by Fields in Trust which has already indicated that it should be a formality.  Roberts and The Horsfall Community Trust, which he helped found two years ago, have ambitious plans and are looking to install a 3G pitch, improve lighting, fencing, roadways and parking, and some building work – with help from funding partners.
The improvements would provide a space to extend and improve existing uses, provide a better experience, and allow more opportunity for the public, especially children, to play a range of sporting activities at the ground every day, something the owner feels is vital for the Bradford community.
Roberts, who is from Bradford but now lives in Texas, flew over from America at the end of last week to help finalise the deal.
Gareth said:
"We've been working hard on the lease for a long time, and we are grateful to the Bradford Council and to Fields In Trust for showing this level of confidence in us to take the site forwards at last. Together with the Horsfall Trust we have created the conditions for the community to come together and invest in what I believe can be a fantastic sports hub and a whole set of varied facilities for decades to come. In anticipation of the signing of the lease, we have appointed Colin Wilson as our Consultant Director of Development to add to our existing team and help pull everything together. He'll be around quite a lot. We now invite potential partners and users of The Horsfall Community Sports Hub Project to come forwards with their ideas and discuss possibilities with us. We are very excited to hear from you".
Gareth also said,
"We've got plenty of pictures of what the ground should look like in future. Many people have already put in a lot of work planning this development. In the works are security fencing around the site,  a 3G pitch and get some proper lights fitted around the ground, as the current lights are pointing all over the place! We couldn't apply for financial help from the FA Stadium Improvement Fund until the lease was signed.
The project is close to Gareth Roberts' heart. His family is originally from Wibsey and feels that there is not enough on offer for youngsters in the city, despite the best efforts of the council, and he wants to go some way towards changing that. He said:
"My goal is to help kids in Bradford. So many of the local grass pitches are in poor shape. Our proposed 3G pitch could be used every day and the new, modern lights cost less to run too. You can dim them, put them on and off whenever you want – they are very flexible these days."
Gareth has also refused to completely rule out the idea of creating a new professional rugby team to play there either.
"We need to get the 3G pitch laid, with a crash pad underneath, so it suits both rugby and football, before we can have rugby played there. The project is primarily for the benefit of the community and there will be play on the 3G pitch during the week and on weekends. We could stage amateur rugby league games if teams want to use it, and we could potentially look at enabling or creating another rugby league team to play there, up to Rugby League Championship standard. To come up to those standards we would need a few things doing, but not too much. And our official capacity is about 3,500 but with a few changes, we could quickly expand that to 5,000."
"These  improvements will not come cheap and unfortunately the 3G pitch is not eligible to get any funding from the football powers that be. That means that we will need to find partners to help with its funding."
"This project will deliver much needed facilities for sport in Bradford . Please contact Colin on 03335660031 and discuss ideas and possibilities with us. These things need to be financially viable, but there are many ways to partner up together. We are excited to hear from you in the next few weeks.